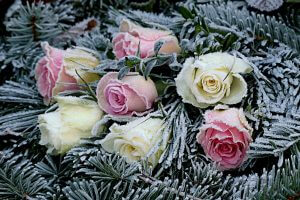 Now that winter is here you may be wondering, like many, just how you can take care of your winter flowers. Here are five simple steps you can take to make sure your flowers are healthy and bright during the spring and summer.
Water Is Essential
It's important to water your plants as usual up until the first frost. This will make sure the roots will have plenty of moisture to make it through the winter. Mid to late August is also the time for one last fertilizing, but only with a half-strength mixture.
Break Out The Pots
Geraniums, Calendulas, and other tender plants should be placed in pots and moved inside. Make sure to place them in a safeguarded area and water then until they can recover from the shock of transplanting. Once you're ready to take them inside, give them a temporary home in the brightest window you can to acclimate them. It's best to do this at least a week before you turn the heat on in your home.
A Little Trim Is In Order
Your perennials will inevitably experience some wilting, so after the first frost, trim away the weaker stems. Once your perennials die back and become dormant, you should trim these down to the ground leaving only an inch or so.
Winterize With Winter Mulch
Your perennials will thrive in the warmer months with just a little pampering during the winter. Gather a 2-3 inch mixture composed of garden soil and compost. This should be added around the base of your plants after the first freeze. this should keep them safe during the winter.
Wrap your shrubs, like peonies and roses, with burlap or paper — especially the younger and more tender shrubs. Wrapping them will help protect your shrubs from the blistering winter winds.