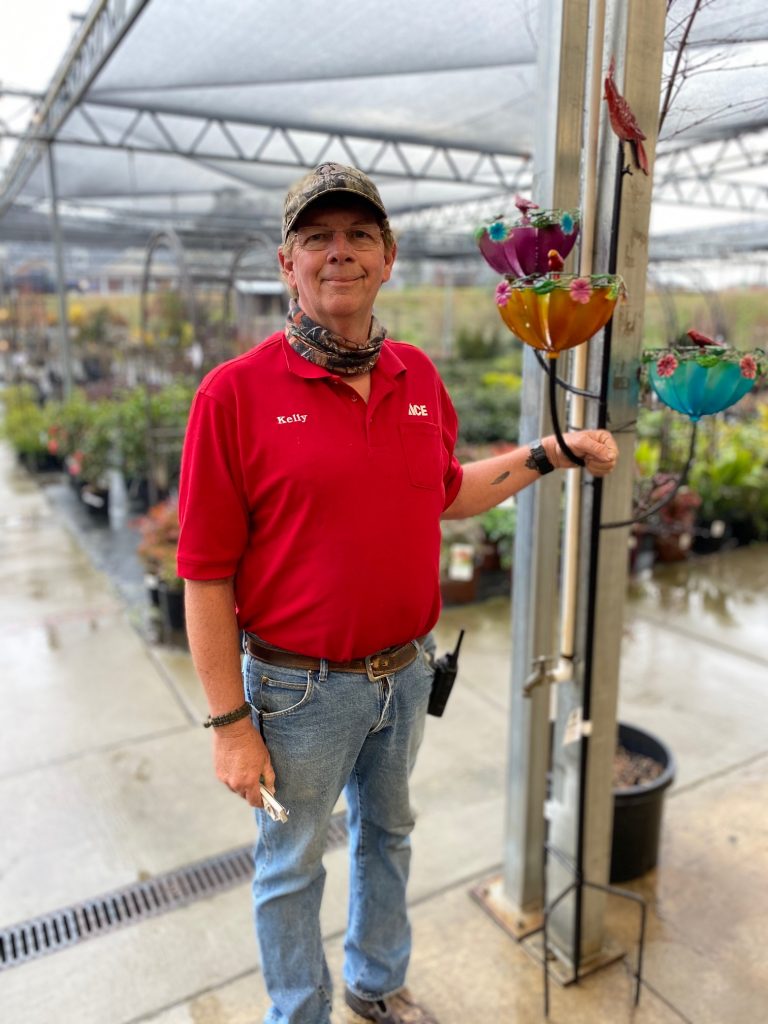 April
It's time for another Kelly's Korner!
April is the month that we tell winter goodbye until next year! Warm breezes and rain showers usher in a new season of flowers and growth! Spring is the favorite season for many and I hope you enjoy this months gardening tips!
1. April is a great month for planting our vegetable gardens. With the danger of frost now past and warmer nights, it's time to plant tender vegetables. Tomatoes, Peppers, Beans, Eggplants, Cucumbers, and Okra thrive in the warmer temperatures. Amend the soil with Black Gold Compost (sku: 7264930). Black Gold Compost will enrich the soil with organic matter and nutrients to get your vegetables off to a fast start. It's excellent for use in all outdoor flower and vegetable gardens.
2. This is a great time to plant many bulbs such as Canna, Caladium, Gladiolus, and Elephant Ears. These will give us bright color throughout the warm months ahead. Add some Hi-Yield Bone Meal (sku: 7296825) and Hi-Yield Blood Meal (sku: 7299001) when planting for great results.
3. Spring flowering shrubs need pruning after they finish blooming. This is also a good time to add fertilizer to encourage vigorous new growth. Fertilome Gardener's Special (sku: 7297104) is an excellent all purpose plant food that contains both fast and slow release nitrogen.
4. Fertilize your lawn with a good slow release fertilizer ACE Lawn Fertilizer (sku: 7475379) builds strong roots and is formulated for quick greening. Most lawns benefit from one inch of water per week. Apply a good lawn insecticide to prevent Ants, Chinch Bugs, and Fleas. Hi-Yield Bug Blaster (sku: 7298177) is a good control for problem insect pests. It's also a great product to control ticks in your lawn!
5. April is a good month to start summer flowering annuals. Coleus, Geraniums, Salvia, Marigolds, and Zinnias will bring a lot of color to your garden! Fertilize weekly with Miracle-Gro All Purpose Plant Food (sku: 70688). It feeds instantly for bigger, more beautiful plants and flowers!
6. Short on space? Consider growing your flowers and vegetables in a raised bed. Black Gold Raised Bed and Potting Mix (sku: 7006237) is a great soil mix to keep those flowers and vegetables looking amazing! It is ready to use in your container garden or raised bed and it's all natural & organic!
Have a great Spring! Time spend outdoors is time well spent! I hope you enjoyed this months gardening tips and keep following for more! See you soon!
---
March
March is a month of transition. Winter is still in control and doesn't want to give up, but as always Spring will win in the end! We all get a case of Spring fever! A good cure is to get outdoors and start planning & planting!
1. Dianthus, Snapdragons, and other cold season flowers should flourish this month. Keep the faded flowers pruned for continuing flowers!
2. March is a good month to plant bulbs for summer color. Dahlias, Cannas, and Iris will provide color during the warmer days ahead! Add some Hi-Yield Dutch Bulb Food (sku: 7297088) to provide nutrients necessary for good root development and big beautiful flowers!
3. March starts the growing season for our trees & shrubs and other ornamental plants. Fertilize with a good slow-release fertilizer. Ace of Gray can help you find the right fertilizer for your plants! Azaleas, Camellias, Gardenias and other Acid loving plants require a special fertilizer to create an acid growing condition that will allow them to thrive and grow! Fertilome Azalea, Camellia, Rhododendron Food (sku: 7296965) supplies the proper nutrients as well as helps control soil acidity.
4. It's a great month to plant cool season vegetables, like lettuce, cabbage, collards, potatoes, onions, broccoli, & kale. They all thrive in the cool early spring weather. Once the danger of frost has passed, it's time to plant warm season tender vegetables such as tomatoes and peppers. The end of the month is also a good time to plant beans, squash, and corn! Bonide Root and Grow (sku: 700001) is great for starting seedlings or transplanting small flower & vegetable plants. Root and Grow will stimulate early root growth and help reduce transplant shock. This will get the plants off to a fast & healthy start!
5. March is a good month to put down mulch in garden beds to conserve water and control weeds. Ace of Gray carries black, brown, red, and cypress mulch to get your garden beds looking beautiful & to help maintain your garden beds!
6. After the danger of frost has clearly passed, its time to fertilize your lawn. Ace of Gray has many great lawn fertilizers to choose from and we are happy to help you find the right one for your lawn! At the beginning of the month there is still time to apply a pre-emergence herbicide to help control annuals weeds. Hi-Yield Crabgrass Control (sku: 7299399) works great to control crabgrass and other annual weed grasses & Hi-Yield Crabgrass control is safe for all turf grass types.
Thank you for coming to Kellys' Korner & we hope you enjoyed this months gardening tips! Happy March!
---
February
Kelly's Korner Gardening Tips
Our minds turn toward spring when February arrives. We have had a great winter so far; cold night temperatures and mild days. Our fruit trees and flowering shrubs should be spectacular this upcoming spring season! I hope you enjoy this months gardening tips!
1. February is a good month to add compost to hard packed clay soils and also to help sandy soils to retain moisture.
2. Apply a pre-emergent this month to prevent weeds this summer. Hi-Yield Crabgrass Control ($9.99 sku: 7299399) is a great product, sterilizing weed seeds so your lawn can be thick and lush this summer!
3. Hardy Vegetables can be planted later this month such as: cabbage, collards, mustard, turnips, onions, and carrots!
4. February is a good month to plant dormant fruit and shade trees. A good soil amendment to use is Black Gold Garden Compost ($7.99 sku: 7264930). This will help retain moisture during the hot summer months and give a quick startup in the spring!
5. Test your garden Soil for it's PH Levels. Apply Lime or Sulfur according to the test results. Ace of Gray has a great selection of soil test kits!
6. Now is a great time to plant spring bulbs like daffodils, tulips, crocus, and hyacinths. Add some bone meal (4LB $4.59 sku: 7296825) when planting for extra strong root growth!
7. You can start seeds of warm season vegetables and flowers this month to have transplants ready for spring! Be sure to give plenty of sunlight! For good germination and fast growth we recommend Black Gold Seedling Mix (1.5cuft $14.99 sku: 7264898 or 8qt $4.99 sku: 7312408).
8. To control scale on fruit trees apply Ferti-lome Dormant Oil Spray ($9.99 sku: 7309834). Now is a good time to prune dormant trees if needed!
Come see us at Ace of Gray for all your lawn and garden needs! We're looking forward to a great Spring! I hope you have enjoyed this months gardening tips by Kelly!
If you have any questions about Gardening Kelly is your go-to guy! Come visit him today or give him a call at (478)986-9200!