YETI Hard Coolers are over-engineered to outperform and sized for all adventures. The new-and-improved Roadie® 24 Hard Cooler is ideal for a road trip, the YETI V Series® Stainless Steel Cooler stands apart in its ground-breaking thermal performance, and if you're looking for our legendary, nearly unbreakable cooler, look no further than the Tundra® line. Every one of our hard coolers can handle the paces of a rugged life in the wild and still keep ice for days.
ROADIE 24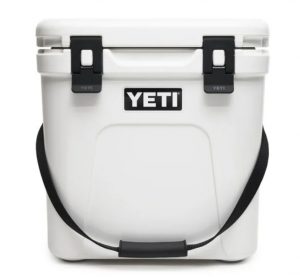 The Roadie® 24 Hard Cooler is a fresh take on a tried-and-true YETI favorite. It's 10% lighter weight, holds 20% more, and even performs 30% better thermally than its legendary predecessor. Plus, we built it tall enough to accommodate critical bottles of wine but slim enough to squeeze behind the driver's or passenger's seat of a car. Now that's what we call a road trip buddy. And hey, this guy is compatible with our Tie-Down kit, which means you can also transport this cooler on your boat, truck bed, or trailer —no problem.
Shop Local $199.99
---
TUNDRA 35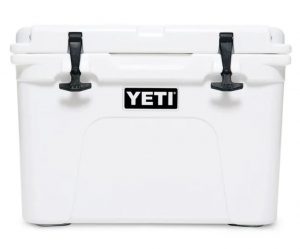 The YETI Tundra® 35 is the right size for personal hauls or food for a small crew. It boasts up to three inches of PermaFrost™ Insulation and a rugged rotomolded construction for optimum adventure performance. And it fits nicely in an inner tube, making it the perfect, portable cooler to take tubing down the river.
Note: This Tundra cooler comes with one dry goods basket.
Shop Local $249.99
---
TUNDRA 45
The YETI Tundra® 45 combines versatility with durability. This premium cooler is infused with that legendary YETI toughness — a durable rotomolded construction and up to two inches of PermaFrost™ Insulation. Which is to say it's built to last and will keep your contents ice-cold even in sweltering conditions, like a triple-digit summer day in central Texas. No bowing, cracking, or melting here.
Note: This Tundra cooler comes with one dry goods basket.
Shop Local $299.99
---
TUNDRA 65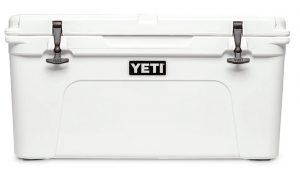 Our coolers are at home on the dock, at the ranch, in the blind, or on the boat, and the Tundra® 65 is no exception. It's our most versatile cooler, just as adept at keeping your catches cold in the field as it is storing the drinks and food for your backyard barbecue. This ice chest is plenty roomy and can hold a limit of redfish or your prized brisket without breaking a sweat.
Note: This Tundra cooler comes with one dry goods basket.
Shop Local $349.99
---
TUNDRA HAUL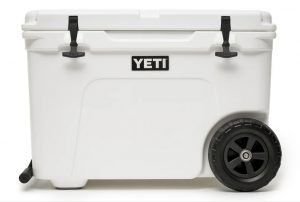 YETI Nation spoke and we listened. Our first-ever YETI cooler on wheels is the answer to taking Tundra's® legendary toughness and unmatched insulation power the extra mile. And nothing was sacrificed in the making of this cold-holding powerhouse, ensuring the Haul™ lives up to the Tundra name. The Tundra® Haul™ is now the toughest cooler on two wheels.
Note: Tundra Haul is not compatible with the dry goods basket.
Shop Local $399.99
---
TUNDRA 75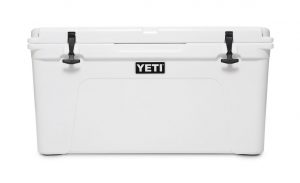 The YETI Tundra® 75 keeps wild game colder than cold after a day hunting. Wherever you take it, the bear-resistant design of the Tundra 75 cooler will protect your food, drink, or catches from burly party crashers of any stripe. It's rugged, rough, and ready to take on the wild. So whether you adventure by land or by sea, the Tundra 75 is the last cooler you'll ever need.
Note: This Tundra cooler comes with one dry goods basket.
Shop Local $449.99
---
SILO 6 GALLON

The YETI® Silo® 6G is what a water cooler should be: a hardworking hydration station that keeps water cold for hours, tough enough to take a tumble, and built to deliver more than just drops at a time. With these critical qualities in mind, we called upon the legendary cold-holding power and rotomolded armor of the Tundra® and fused it with an ultra-strong spigot to create a remarkably insulated, quick-to-pour, easy-to-clean powerhouse of a water cooler.
---
V SERIES STAINLESS STEEL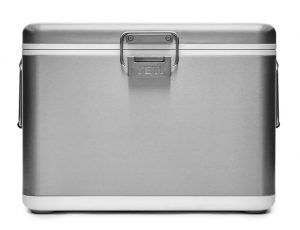 Combining two YETI icons: the cold-holding power of our Rambler® Drinkware and our iconic Tundra® Cooler. The YETI V Series® Stainless Steel Cooler is the result of our relentless dedication to innovation, taking our legendary insulation to the next level in a look that's a classic nod to the past, but built with downright futuristic technology.
Shop Local $800
Call the store for color & stock availability – (478)986-9200!