Hit the trails or relax by the lake with a sturdy cooler to keep all your food and drinks chilled. Shop a selection of large and small styles for home and travel, then browse durability and convenience features to find the perfect ice chest for your next outing.

Finding the Perfect Cooler
At Ace, we carry a wide selection of different coolers to help you find the perfect cooler for any occasion. Our large ice chests are great for backyard barbecues, with plenty of space to store your drinks, snacks, and ice. The tough locking system seals in cold for long nights on the patio, while non-slip feet keep your refreshments right where they should be. Choose from a selection of different large-size capacities to fit everything you need for a night on the deck.
When you want to take your party on the road, discover our selection of portable and small coolers. Perfect for day trips, picnics and ball games! Our mini coolers feature everything you love about the large size in a convenient, compact model. Hard travel cooler designs deliver a durable seal that holds up against bumps and shakes, while our soft cooler bags provide a flexible alternative that's light and easy to carry. Shop picnic coolers equipped with shoulder straps, handles, and wheels for portable comfort.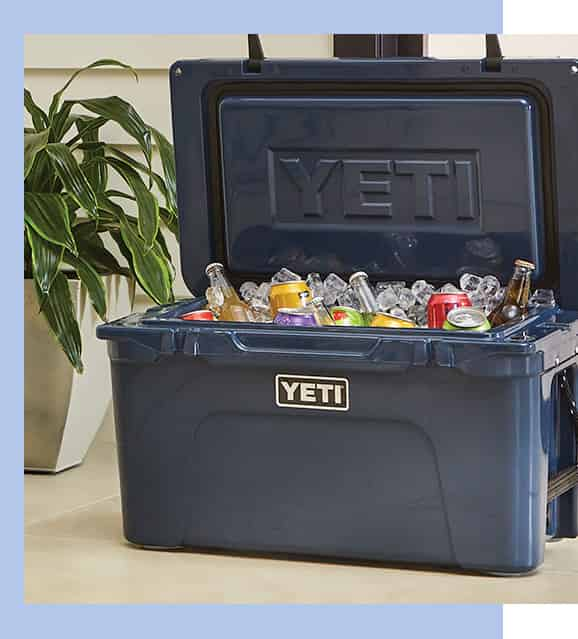 Cooler and Ice Chest Features
Whether you're looking for a large ice chest or a compact travel cooler, we offer a wide selection of helpful features to deliver the convenience and durability you need. Explore high-tech designs that are ready for anything with our favorite beverage cooler features:
Durable molded construction: designed to stay strong through any adventure, our hard molded ice chests withstand bending and breaking for long-lasting quality.
Tough fabric features: get a soft cooler you can depend on with waterproof fabric that's UV, mildew, and puncture-resistant.
Rubber latches: avoid cracked and busted latches with this heavy-duty closure system crafted with patented technology.
Hydrolok zippers: lock in the cold with high-tech zippers that seal out water and seal in chill.
Anti-skid feet: keep your cooler right where you want it with a secure fixed base.
Drink holders: discover a cooler that doubles as a table with built-in drink holders for instant convenience.
Comfort carry features: take your cooler on the road with a molded stainless steel handle and comfort grip or a flexible padded shoulder strap.
Integrated wheels: move even the heaviest cooler with impact-resistant wheels for any terrain.
A variety of colors: explore classic white and tan, as well as green, black, blue, and more!
No matter where you're headed, our ice coolers offer high-tech insulated quality for hours of cold. Choose the right size for your adventure, then discover all the features you need for ultimate comfort and convenience.
Easy Outdoor Living
Discover the perfect equipment for every outing with the best coolers and ice chests from Ace Hardware. Shop large and small sizes for barbecues, camping, lake trips and more, then browse durability and convenience features to make every outing a breeze. Complete your set up with comfortable and portable beach chairs to bring relaxation anywhere.
Shop by Brand:
---
Please call the store at (478)986-9200 for inventory questions!