The YETI Rambler® family is tough as hell, and will keep your drinks as cold (or hot) as science allows. With 18/8 stainless steel construction, double-wall vacuum insulation, and No Sweat™ Design, they're perfect for the deer lease, cleaning table, or just the down time in between your outdoor exploring. Find the Rambler Tumbler, Bottle, Colster®, or Jug that's right for your next adventure.
RAMBLER COLSTER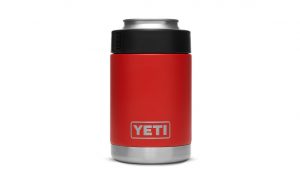 The YETI Colster® keeps cans and bottles so cold for so long that you'll have to rethink your understanding of a few natural laws. Standard 12 oz. cans and bottles fit like a glove – a glove with double-wall vacuum insulation. The Load-and-Lock™ Gasket secures your drink in place, and No Sweat™ Design keeps your hands dry while your drink stays cold. Available in stainless and DuraCoat™ colors.
Available in Canyon Red, Stainless Steel, Navy, White, Seafoam, Brick Red, and Black
Shop Local $24.99
---
RAMBLER 10 OZ LOWBALL
---
RAMBLER 14 OZ MUG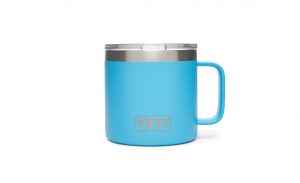 The YETI Rambler® 14 oz. Mug is the toughest, most over-engineered camp mug out there. Unlike traditional camp mugs, this double-wall vacuum-insulated body protects hands from hot or cold contents while keeping coffee, chili, oatmeal – you name it – well-insulated. The mug's wide opening means contents are easily accessible, but will cool quicker. That's why the mug comes with the standard Rambler 30 oz. Lid (also compatible with the Rambler 30 oz. MagSlider Lid).
Important: Do not place mug over external heat source or open flame. Vacuum seal or other damage may occur.
Available in Reef Blue, Stainless Steel, Navy, White, Seafoam, Brick Red, and Black
Shop Local $24.99
---
RAMBLER 20 OZ TUMBLER