Ace of Gray is now an authorized FIREDISC Dealer! FIREDISC Portable Propane Cookers are a modern, high-performance version of an authentic plow disc cooker, FIREDISC is built to last and designed to be easily taken down for travel and storage! FIREDISC fires up fast, cooks virtually anything, seasons like a cast-iron skillet and cleans up quickly with just water! These portable propane cookers are going to change the way you cook outdoors — you'll never go back to a traditional grill!
GET THE ORIGINAL, 
GET A FIREDISC®
In today's world, time with family is more valuable than ever. Meet FIREDISC®, the original portable propane cooker. It sets up in seconds, fires up fast and cooks anything you throw at it. Whether it's a quick meal at home, or in the great outdoors, FIREDISC® has you covered. Take your kitchen outside and enjoy everything that makes good food…great. FIREDISC® …Cooking At Home Made Easy!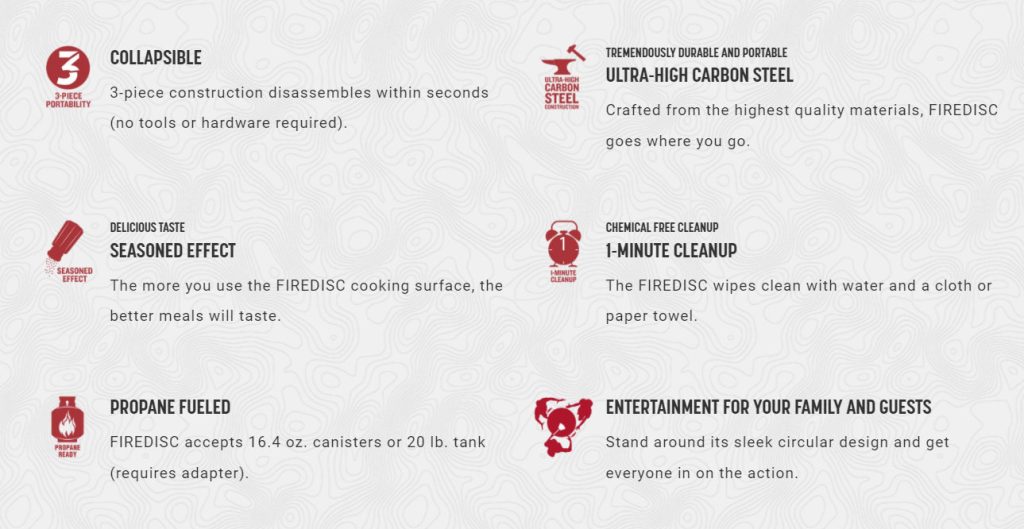 ENTREPRENEURIAL BEGINNINGS
Growing up in Texas, brothers Hunter and Griff Jaggard were always avid outdoor enthusiasts, living an active lifestyle that included many hunting, fishing, camping and tailgating adventures. But preparing breakfast, lunch, or dinner outside was always a pain point in an otherwise enjoyable excursion. Frustrated by the lack of adequate cooking tools and methods to prepare delicious meals for friends and family outdoors, the brothers reimagined what cooking outside could be… and it didn't take long to turn that commiseration into inspiration for a product that would go on to disrupt the barbecue and grill market. 
In 2010, after numerous failures with just about every grill available at the time, the brother team set out to develop a solution: the world's most innovative portable cooker. Leaning on their Texas roots, they pursued a cooktop design based on Discada cooking, which lends itself to many types of cuisine preparations. While working full-time careers in commercial real estate, Hunter and Griff set aside time on nights and weekends to create what would ultimately become a high-tech outdoor portable cooking innovation that would finally provide a versatile option for outdoor cooking. Armed with a plow disc from a tractor and a welding shop for hire, the brothers set out to design an entirely new category of cooking that was portable yet bullet-proof, and could out-cook and outlast any gas cooker or grill on the market.
In 2017, after many years of testing, innovation, and product improvement, the brothers made the decision to resign from their 15-year commercial real estate careers and focus on their passion. On that day, FIREDISC® was born. 
Headquartered in Houston, Texas, FIREDISC® is a national product designer, manufacturer, distributor, and retailer of innovative outdoor cooking products. From portable propane cookers and durable accessories, to heavy duty utensils and apparel, FIREDISC® offers products that make cooking outside accessible, easy and fun for everyone – because time with friends and family is more valuable than ever. Built to haul and "cook it all", FIREDISC® Cookers can cook anything you throw at them and be taken anywhere you dream up. Whether it is a quick meal at home in the backyard or a weekend gathering on the go, FIREDISC® makes good food great. To match the high quality of products delivered, the Texas-based, family-owned team also consistently strives to deliver an exceptional customer experience. As a result, since launching in 2017, the FIREDISC® team has built a powerful following of brand loyalists throughout the nation – ranging from well-known outdoor enthusiasts to individuals who simply value products of unmatched quality, durability and versatility. Now and in the years to come, FIREDISC® is focused on a persistent path to design superior products for people who love living life outdoors. Fire it Up and Gather 'Round.