Purchase Demo Eggs
We offer great discounts on gently used Big Green Eggs. We provide our Eggfest cooks new Eggs to cook on the day of the event. These Big Green Eggs are pre-sold to customers that agree to attend the Eggfest and take their Demo Eggs home after the event (Saturday, June 13th). If you are interested in purchasing one of these Demo Eggs, please read the terms and conditions of the Demo Egg sales listed below. We have a limited number of demo eggs from the Heart of Georgia EggFest and orders are first come, first serve. All egg comes with a FULL WARRANTY.
Large Big Green Egg in Nest with Plate Setter – $700.00 + 7% Tax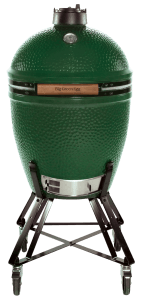 The Large EGG is the most popular size and a favorite to handle the cooking needs of most families and gatherings of friends. Accommodates all EGGcessories for baking, roasting or smoking – and it's versatile enough for weekend cook-outs or pizza parties, large enough for eight steaks at once, and efficient enough for an impromptu meatloaf for two!
Specifications:
Grid Diameter: 18.25 in / 46 cm
Cooking Area: 262 sq in / 1688 sq cm
Weight: 162 lbs / 73 kgs
The Large EGG can cook:
20-pound turkey
12 burgers
6 chickens vertically
8 steaks
7 racks of ribs vertically
Demo Eggs must be picked up between 5 pm and 6 pm the day of the Eggfest
Demo Eggs include one Large Big Green Egg, nest and platesetter. Demo Eggs will be fully assembled. Eggs are complete with dual function metal top, Ceramic Damper top, stainless draft door, temperature gauge and spring assisted hinge. Rolling nest will have 4″ locking casters. If you would rather purchase a table please contact Christopher @ Ace of Gray to make arrangements on a nest/table trade to be worked out in advance of the EggFest.
Demo Eggs will be available in Large only.
Demo Eggs buyers must attend the Eggfest and will receive 2 FREE entry tickets into the EggFest.
Demo Eggs must be picked after Eggfest festivities have concluded on June 9th.
Please bring a vehicle large enough to accommodate your Demo Egg, You will need 33″ of height in your vehicle, Small SUV's and bigger vehicles will work, passenger cars are a problem. Please also bring blankets and straps to help with this process. Eggfest staff will assist in the loading of your Demo Egg. Please arrange help at your residence to assist in unloading.
Demo Eggs will be cooled by 5 pm and prepped for loading.
Essential accessories will be available to purchase at the Eggfest, limited supplies may require purchases being made early in the day as we may run out of stock by days end. Extra Lump Charcoal bags help in packing your Demo Egg inside your vehicle.
We will have a limited amount of Demo Eggs to sell. We will list the Demo Eggs as sold out once the limits are reached.
Please fill out the form below or contact Christopher @ Ace of Gray – 478-986-9200 or eggfest@aceofgray.com.
There will be no refunds on Demo Eggs once payment is received.
At Ace of Gray, we accept Visa, MasterCard, American Express and Discover as our preferred payment methods. Your payment information will be handled securely and will not be shared with others. You are authorizing Ace of Gray to charge my purchases on the above-referenced credit card.