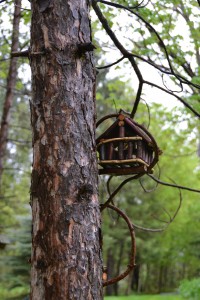 Here in Gray, we don't have to worry about heavy snows, bough-breaking ice storms, or plant damage from four solid months of road salt. But just because we're blessed to live in the South doesn't mean we can ignore our trees and shrubs when the weather gets cold. Wild animals, winter wind, and mild ices can cause structural damage to your spring and summer blooming trees. Here are three simple ways prevent tree injury this winter.
1. Fence in your trees and shrubs. Hungry rabbits, curious deer, and other wandering winter wildlife can damage the bark, limbs, and even the roots of your trees. Place chicken wire fencing, sturdy hardware cloth, or a small wooden fence around the base of your trees to protect them during the cooler months. But don't forget to remove the barriers come spring; wire fencing and burlap wraps constrict spring growth, stunting your trees and increasing the risk of injury.
2. Keep nature at bay. Just because we don't often see snow in Georgia doesn't mean our plants are immune to winter weather. Heavy winds, light ices, and torrential rains strain even hardy trees, scattering thin branches and cracking heavy tree limbs. Check your trees and shrubs for injury after a storm. Tend any wounded branches or bark. If a crack in the trunk or damage to the roots creates a safety risk to nearby structures, have a professional examine your tree for potential removal.
3. Remember spring is coming. Winter won't last forever. To keep your plants growing strong, you need to tend them in the dormant season. Lay mulch in January and February. Mulch decomposes more slowly in cooler weather, providing longer lasting benefits than mulch or pine straw applied solely in the spring. Prune your trees in February or March while they're still dormant. Late winter pruning prevents tree injury and rejuvenates plants for a burst of growth in the spring.
For more information on winter tree care, stop by Ace Hardware of Gray, GA.