The temperatures keep dropping, and the fluctuating winter weather makes our gardens grim and gray. It's almost time for winter pruning and applying pre-emergents, but the intervening weeks promise a dull and barren landscape. There's no reason to fall prey to the cold-weather doldrums. Instead of dreaming spring dreams, take advantage of the bare branches and unimpeded view of your winter landscape. It's the perfect time of year to reassess your outdoor spaces.
Garden Layout
Wintertime offers a unique perspective on your home landscaping. Without the bright blooms and vivid greens of spring, you can see clearly to prune hedges, remove dangerous tree branches, and thin rose bushes. The dormant season also gives you a new perspective on the landscape you love. You can gauge where to plant spring bulbs, which areas of your yard need better drainage, and whether you're working with the natural contours of your lawn or against them. Take January and February to sketch spring garden ideas and note irrigation issues. If you need a boost of winter beauty, install garden ornaments like birdbaths, arbors, or lawn statues. Your flowers will grow around them in the spring, giving your garden depth and style.
Outdoor Living Space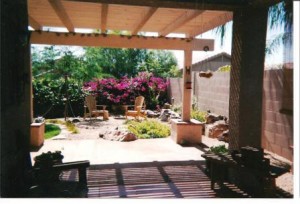 There's no better time to conquer the great outdoors than late winter. The cooler months offer the perfect opportunity to design the outdoor living space of your dreams. Whether a chic outdoor kitchen or the versatility of a Traeger fits your family's style, winter gives you the freedom to design, budget, and build your outdoor oasis. When warm March sunshine reaches Gray, all you'll need is the burgers and buns.
For tips on winter landscaping and home improvement, ask the experts at Ace of Gray.