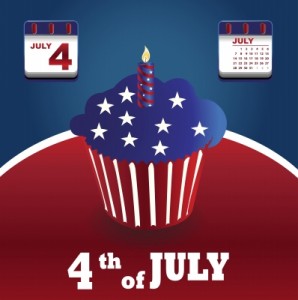 Bright, patriotic decorations, delicious slow-cooked burgers, and the laughter of family and friends filling the backyard . . . nothing beats a Fourth of July cookout. Summer gatherings in the South are a time-honored tradition, and the Fourth of July takes the cake for "party of the summer." Whether your kind of celebration is a well-timed annual get-together, or an impromptu party for your friends and neighbors, follow these 4 tips for throwing Fourth of July cookout.
Plan the menu. No Independence Day celebration is complete without steaming plates of burgers and hot dogs fresh off the grill. Make simple, savory sides out of fresh veggies from your vegetable garden, smoked side-by-side with your meat. Fill up your favorite festive serving bowls with chips and dip, fresh fruits, and finger foods. Do you have friends with dietary restrictions? Make sure you keep a dish dairy, nut, or gluten-free.
Set the stage. The July 4th is one day you won't get away with throwing an indoor party. Prepare your landscape for the celebration by mowing, hauling away branches and yard debris, and filling vases with fresh flowers from the garden. Set up a food table under a covered porch area to protect dessert from the hot summer sun or unexpected showers. Will your Fourth of July celebration be full of little feet? Rent a bouncy house to entertain the kids while the adults catch up.
Decorate. Most Americans love to show off their patriotic spirit. Celebrate our nation's birthday with flag-print paper plates; festive outdoor décor; and Happy Everything serving dishes from the Ace of Gray Gift Shop.
Set the mood. Pump your friends and family full of patriotic energy with the perfect summer playlist. Include a variety of patriotic melodies, beach tunes, and American classics. Fill mason jars with sparklers and watch the celebratory spirit catch fire!
Ace of Gray has all the supplies to help you throw the perfect Fourth of July celebration. Heat up the grill and get ready to party!