A fresh coat of paint can work miracles, turning a drab kitchen into an inviting home space, updating a dated bathroom, or making old furniture new again. Painting is arguably the easiest DIY home improvement project; just a few hours can transform your home, no prior knowledge necessary. But while painting a bedroom doesn't require the handyman know-how of installing a tankless water heater or redoing the back deck, these simple painting tips will make the task infinitely easier.
Tools and Supplies
Before beginning your home painting project, stop by Ace of Gray home improvement store for the the necessary supplies.
Paint scraper to remove old paint
Wire brush to clean walls
Caulk and caulk gun to reinforce window seals
Putty and putty knife to fill holes
Sander to smooth surfaces
Paintbrush and rollers
Paint tray
Stirring stick
Drop cloth
Painter's tape
Paint
Preparing to Paint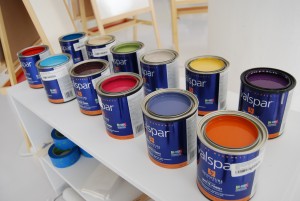 Before you paint, look through color books to find your desired paint color. Bring home samples to see how each color will look when the light changes throughout the day. Once you have chosen the color for your project, stop by Ace of Gray to purchase your paint. We carry Valspar, Royal, and the #1 ranked interior paint brand, Clark+Kensington. Stock up on painting supplies and set the stage by filling holes, washing the walls, and smoothing your surface. If possible, remove pictures, rugs, and furniture before putting down drop cloths. Edge windows, molding, and outlet casings with painter's tape before beginning. Paint only on dry, smooth surfaces. If your home improvement project includes a fresh coat of paint on the ceiling, start there before painting the walls.
For more interior painting tips, ask the experts at Ace of Gray.