When people think about monogramming, they think of the South. Monograms call to mind sweeping plantations, bright blooms in window boxes, and graceful weddings. Monograms mean heirlooms and family pride, marriages and unity. In the North monograms may be a sign of wealth and grandeur, but in the South they mean love, commitment, and cherished keepsakes.
The History of the Monogram
Although many people believe monograms began with European royalty, monograms have an even more illustrious history. The tradition of monogramming personal treasures dates back to the Greeks and Romans. In ancient times, monograms were stamped onto coins to represent their city of origin. Artists, craftsmen, and even aristocrats quickly latched onto monograms as an elegant way to make their mark on sculptures, furniture, and documents. By the time of the Victorian era, monograms were used to stamp letters, sign paintings, and personalize household items.
Monogramming in the South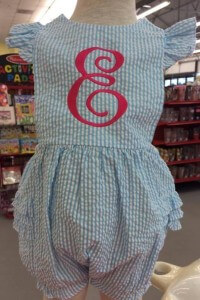 Southerners love monogramming for its class, artistry, and history. For centuries, women of the South embroidered quilts, linens, and clothing with monogrammed initials. Wedding gifts are often monogrammed with a couple's initials to celebrate their union and the start of their history together. Although traditionally a family matriarch sewed monograms onto heirloom belongings, modern technology allows Southern women to personalize items easily and artfully.
Ace of Gray Monogramming
Here at Ace of Gray, we make it easy to personalize your purchases. Whether you've bought a new cooler, a tote bag, or spring clothing, we're happy to monogram your belongings. Create a new family heirloom, make a wedding gift unforgettable, or simply make your child feel truly special with our personalized embroidery or heat press decals.
Call today for more information on Ace of Gray's monogramming service.