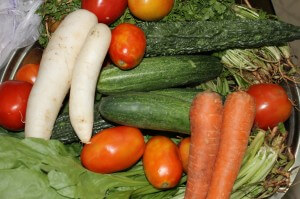 The kids are back in school, traffic is out in full force, and fall looms on the horizon. We may still be in the midst of summer heat, but the autumn season is closer than you think. The end of summer is a difficult time for gardeners: too late for summer blooms, but too early for winter-hardy plants. Take advantage of early August weekends by planning and planting fall vegetable gardens.
A Second Summer Crop
Heat and humidity can cause even the most energetic kids to wither when playing outdoors, but when it comes to fall planting, our Southern climate gives gardeners an edge. While most of the country plants fall vegetables, Gray gardeners can plant a second round of summer crops. Choose warm season veggies that performed well in your spring garden, or branch out with a new variety of summer produce. Plant tomatoes, cucumbers, and other summer favorites in the first few weeks of August to avoid early winter frosts.
Growing Fall Veggies
Are you ready to plant your cold weather crop? Winter vegetables are hardier than their warm weather friends. Prep your growing space by removing late summer weeds, supplementing your soil with compost or fertilizer, and ensuring proper irrigation in your vegetable garden.
90 Day Harvest: Onions, carrots, cabbages, rutabega, and brussel sprouts
60 Day Harvest: Turnips, swiss chard, collards, and turnips
30 Day Harvest: Radishes, Broccoli, and spinach
New to vegetable gardening? Ask Ace of Gray's landscaping pros about transplanting vegetables, growing from seed, and choosing which vegetables to plant in your garden.