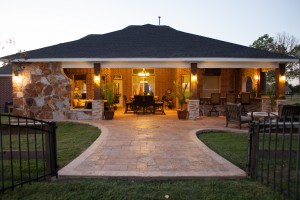 As spring blooms around us, we're filled with an insatiable longing to sit outside and soak up the Georgia sunshine. The season of backyard cookouts and lounging on the porch has arrived. If you're not satisfied with your outdoor living space, here are 3 home improvement updates for your outdoor entertaining area.
Outdoor Living Home Makeovers
Make it bloom. When in doubt, just add flowers. Add color, texture, and a bit of privacy screening to your backyard spaces with ornamental trees, shrubs, and flowers. For an extra dose of Southern style on the porch, pot plants in unconventional containers like wheelbarrows or old teapots.
Paint a masterpiece. Color is the simplest (and most cost efficient) way to update a worn porch, outdoor kitchen, or backyard dining nook. Simply pick out your favorite weatherproof paint at Ace of Gray and watch your outdoor entertaining space transform before your eyes. The sky's the limit, but we recommend choosing a neutral palette to match your home, then adding a few pops of brightly painted furniture for flavor.
Heat up the grill. What good is an outdoor entertaining area without a killer grill? If you're trying to move the party outside, you'll need a great grill. Choose from our selection of grills and slow cookers, like the popular Holland Grill or Big Green Egg. Make your husband's year by adding an array of meat-tenderizing, flavor-enhancing grill accessories to his summer grill station. Then sit back, relax, and prepare to hand over dinner duty!
Transform your outdoor living spaces this spring with tools, tips, and home improvement materials from Ace of Gray.