School may still be in session, but just like our kids, we're already planning summer adventures. Relaxing by the lake, playing games in the park, and exploring hiking trails are just a few of the fun times we have waiting for us this season. Are you ready for a summer of fun? Don't forget your summer survival kit!
Summer Survival Kit from Ace of Gray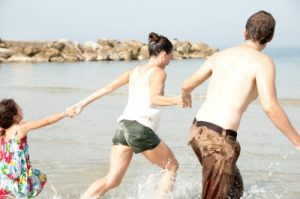 Everybody's summer survival kit is different. If you're a hiker, you'll need a new pair of hiking boots from Georgia Boot. If you're an entertainer, you might pick up the materials to build a new deck. If you prefer to spend summer indoors, a new decorative figurine may make your home feel more welcoming than ever. But no matter who you are, there are a few items you can't survive a summer in the South without.
The Essentials
Wherever you go, make sure your car is stocked with these summer survival essentials.
A backpack to keep it all together
A blanket for breezy evenings or impromptu picnics
A first aid kit
Nonperishable snacks and bottled water
Bug spray
Sunscreen
The Shades
Whether you're hitting the water for an afternoon of fishing, climbing mountains on a weekend adventure, or watching the kids play in the backyard, there's no doubt that Georgia's sun will be shining. Protect your eyes with a pair of Costa sunglasses. We have over 125 styles in stock for men, women, and kids, so you're sure to find your perfect pair.
Keeping Cool
Wherever your adventures take you, we're willing to bet you'll want a cold drink. No summer survival kit is complete without a cooler stocked with water, Cokes, beer, and fresh meat for the grill. What's even better? If you purchase a Yeti cooler, Ace of Gray will supply you with free ice for life!
Summer is just around the corner. Visit Ace of Gray to stock up on summer essentials and other seasonal gear like clothing, shoes, drinkware, and more.