Sometimes home organization seems like a battle that can't be won. Folks in Gray spend months updating their kitchens, re-tiling their bathrooms, and refurbishing their outdoor living spaces, only to watch clutter overwhelm their home improvement efforts. If you're constantly rifling through over-full junk drawers, digging through cluttered closets, and grilling around piles of deck debris, check out Ace of Gray's guide to unique home storage.
Happy Everything Storage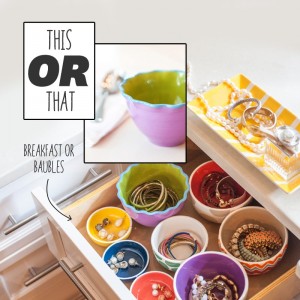 The best kind of storage is the kind you want to use. Update your plastic dividers and cheap jewelry racks with chic bowls, plates, and attachments from Coton Color's Happy Everything line. Not only do their decorative dining accessories make great additions to meals and parties, they easily double as home storage. Store rings and hairpins in brightly colored butter dishes, use serving trays as mail catch-alls, or repurpose painted cookie jars to store winter scarves. With storage this chic, you can tuck it into drawers or leave it free to see.
Magnetize It
There are some home items that no one can find the room for: kitchen spices, nails and screws, and paperclips, to name a few. If you're tired of rooting through toolboxes and junk drawers, it's time for a new approach to home organization. Get small objects out of the way by gluing magnets to the lids of small glass jars. Attach a reverse magnet strip underneath cabinets, inside doors, or beneath worktables. Easy access and quick home organization!
Repurpose Everyday Accessories
Are you a craft lover with too much project supplies? A busy mom tired of tripping over art tools? A smart shopper who can't find room for recycled containers? You can easily repurpose common household accessories to hold your unusual items.
Hang a paper towel rack in your craft room to hold decorative ribbons for easy snipping.
Use a dish rack to store coloring books, mail, or cook books.
Hang shower hooks in your spare closet to store purses.
Reuse old tissue boxes for organized and easily accessible plastic grocery bags.
Stop by Ace of Gray for home accessories, organization materials, and renovation supplies.