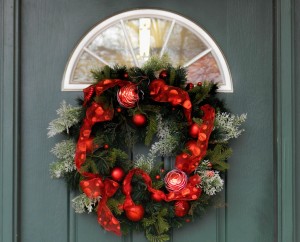 If we had to take a guess, we'd say your mantlepiece, dining table, and front door are decked out with a variety of living greenery for the Christmas season. We have a full selection of fresh fir trees and live greenery for those of you putting off holiday decorating. But once it's in place, how do you keep it fresh? Follow this guide to keeping greenery fresh until Christmas.
How to Keep Cut Greenery Fresh
Think before you decorate. Fresh greenery may look gorgeous decorating a mantle, but when you add a blazing fire, things go downhill fast. Not only does the excess heat dry out cut evergreens, it's a serious fire hazard. If you're planning to light a holiday fire this year, keep the mantle displays nonflammable.
Know your plants. Evergreens are a hearty bunch, but cut holly leaves will discolor if exposed to extreme temperatures. If you've never hung fresh mistletoe or put a live wreath on the door, ask an Ace of Gray garden expert how to care for living greenery.
Water your Christmas displays. We promise, it won't hurt those shiny ornaments. Many people forget that cut evergreens, like any other plant, need water to thrive. Mist fir garlands, fresh wreaths, and other evergreen decor with water every two days to keep them fresh for Christmas.
Not satisfied with your holiday display? We can turn that seasonal table from drab to fab! Get a fresh, healthy Christmas tree, living wreath, or fresh-cut greenery at Ace of Gray.