In the slow cooker world, one smoker stands elite. The Big Green Egg isn't just an outdoor living accessory. It's a way of life. It gives meats and poultry that rich, moist, smoky flavor; it cooks cobblers, pies, and pizzas to perfection; it even packs a punch into flaky fish and marinades whole turkeys with flavor from skin to bone. Buying a Big Green Egg will change the way you see dinner . . . but it's also a lot of pressure. If you're not sure how to use a smoker, don't worry; Ace of Gray has you covered.
Egging 101 with Kurt Halls
If you want to bid adieu to restaurant steaks and diner burgers, you're going to need some tools in your arsenal. Tool #1 is your slow cooker, complete with basic EGGcessories. Step two? Egging 101 with Kurt Halls.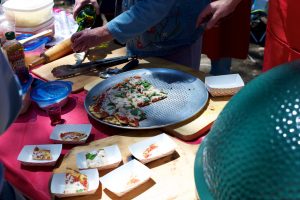 The Big Green Egg gives you the ultimate cooking experience. Learn how to sear the perfect steak, slow cook holiday ham, and grill corn on the cob for your next summer cookout. Kurt Hall is an Egger extraordinaire. He's spent years perfecting his grilling technique, and has used the Big Green Egg almost exclusively since 2011. Whether you're new to smokers or just want a few fresh tricks for your next cook out, Egging 101 will give you the skills you need to wow friends and family. Here's what to expect from Ace of Gray's Big Green Egg cooking class:
2-3 hours of instruction on cooking with a Big Green Egg
Interactive lessons
A taste test at the end of the class
Copies of each recipe used in the lesson
10% off all grill and grill accessories the day of class!
We'll cover basic Egging techniques like:
Essential tools
Basic setups
Lighting
Temperature control
Tips & tricks
Egg maintenance
Ready to make summer sizzle? Register online for our Big Green Egg cooking class. Then mark your calendar for the Ace of Gray Heart of Georgia Eggfest on June 11th.