As the summer quickly approaches, you run into quite the predicament. The sun gets hotter and your grass gets longer. An easy solution would be just to cut it, but at Ace of Gray, we want to give you some pointers on ways to stay cool and get it done both quickly and efficiently.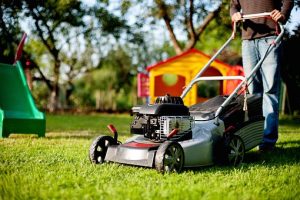 Our first recommendation would be to use a riding lawn mower. A riding lawn mower will help you conserve energy as opposed to walking and pushing. It will also help you move faster and perform more accurate turns, which will result in a better-looking lawn.
Figure out a way to mow while under an umbrella or other structure. There are some mowers that come with an attachment to shield the sun. If that is not the case with your mower, see how to construct a canopy on your lawn mower.
Dress in comfortable, breathable clothing. You will not want to wear heavy clothes while mowing because it will raise your body temperature causing you to overheat. Pairing an umbrella with cool clothing will definitely help keep your body temperature down.
To mow more quickly, have a pre-determined route you will take while on your mower. This will help your lawn look neat and will help you move quicker!
Take a look at the lawn mowers we offer at Ace. We have a few new models in stock that should be very helpful in making your lawn look incredible! As always, if you have any questions, please feel free to contact us.