It's easy to think that autumn's arrival means the end of seasonal gardening, but that couldn't be further from the truth. After all, Southerners don't call fall "the second spring" for nothing. Fall affords Georgia gardeners amazing opportunities for vegetable gardening, establishing grass lawns, and planting fresh flowers. It's also an excellent time to delve into the world of container gardening. If you're looking for a simple splash of fall color, outfit your Gray home with a fall window box.
Container Gardening 101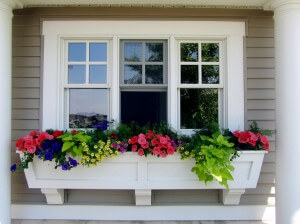 Container gardening is a great way to get beautiful fall color with a fraction of the effort. If you're new to container gardening, follow these tips:
Choose the right pot for your plant
Make sure your container has adequate drainage
Place your containers where the plants will get adequate sunlight
Decide whether to start from seed or purchase plants from the Ace of Gray nursery
Window Boxes for Fall
If you're not one for fall gardening (or you just want an extra pop of fall color), window boxes are an excellent way to cultivate a fall atmosphere around your home. If you don't already have windowboxes, install them on windows in front of the house, by the kitchen, and anywhere else you want a burst of color. Decide whether you'll be planting flowers or simply arranging fall decor in your window box. This will determine if you need adequate drainage, good soil, and space for plants to grow. Here are a few fall window box ideas to get you started:
Autumn gourds and pumpkins on a bed of vines
Gold, red, and yellow leaves dotted with pinecones
A combination of mums, succulents, and decorative fall vegetables
Want a fresh take on classic fall gardening? Ask the experts at Ace of Gray's garden center about our favorite floral selections for fall.