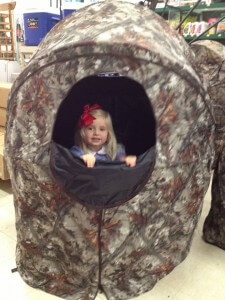 Hunting is a time honored southern tradition that brings together families, friends, and that neighbor who owns an elevated deer blind. Your rituals may include a special 4am breakfast, lucky hunting equipment, or just packing up the truck with your dad. Whatever your hunting habits, it's time to round up the boys for a new season of memories. Small game season is almost over and Georgia's deer hunting season is well underway.
Open Season
It's open season on game big and small. Duck hunting has been open since September, and hunters are already enjoying their first deer hauls. Before you embark on your first hunt of the season, buy your hunter's license, take a day at the shooting range, and refresh your knowledge of Georgia's hunting regulations. If you're taking your kid hunting for the first time, research hunter education classes or share hunter safety tips. You won't want to waste a half of your hunting day on preparation and education.
Hunting Hardware
Whether you're an old pro or just getting started, Ace of Gray has the tips and tools to get your hunting season underway. Get your hunting license here, and restock your ammunition supply while you're at it. We sell camo gear for all ages, portable camouflage hunting blinds, and folding chairs so you can create a hidden hunter's habitat that won't scare away the game. Check your equipment bag for alert whistles, emergency supplies, batteries, and a first aid kit. And keep Ace of Gray's extensive hunting selection in mind; when the weather gets cool, you may want to snag some of our hand warmers, hunting jackets, and propane lanterns to keep warm and dry.
Visit Ace Hardware of Gray, Georgia to purchase your sporting goods, then stop back by to share your weekend successes with your fellow hunters.