Does anyone remember "back to school" back in the day? Functional backpacks, plain notebooks, and tin lunchboxes etched with kids' favorite superheroes or cartoon characters? We'd never give up our cutesy cartoon lunchboxes, but back-to-school isn't just about supplies these days: it's about style. We've taken inspiration from the classic school gear of our childhoods, updated it with the latest trends, and added personalized details like decals and monograms. If you're ready to send your child back to school in style, stop by Ace of Gray Garden Center and Gift Shop.
Backpacks and Lunchboxes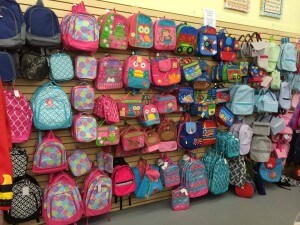 It doesn't matter if they're the class clown, the new kid on the block, or the top of their class, kids want to show off their own unique back-to-school style. Outfit your cute kindergartner, chic pre-teen, or rugged outdoorsman in school gear that fits them to a T. Check out our collection of seersucker and gingham backpacks (true Southern classics), geometric print lunchboxes (a fun, modern way to dress up your lunch), faux leather and camo school gear (for little boys who can't sit still), and cartoon printed school bags (something for everyone!). We sell classic zippered backbacks, drawstring and flap backpacks, and backpacks with handles and wheels. Let kids choose their favorite combinations of fabric, patterns, and styles for back-to-school gear that's uniquely them.
Back to School Specials
It wouldn't be back-to-school without a great promotion! From now until August 1st we're offering free monogramming on lunchboxes to anyone who buys a backpack, too. Personalize your child's school gear (and keep them from losing it in the process) with a stylish decal, embroidery, or monogram.
Want to learn more about making back-to-school special? Call Ace of Gray for more information about school gear for kids in Gray.