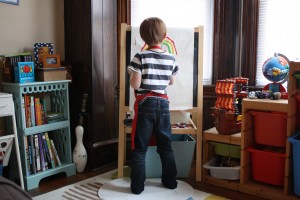 It sounds like a great plan: clean out your kid's bedroom for the new year. Maybe you want to thin the storage bins after a successful Christmas. Maybe you're getting rid of junk so you can repaint and redecorate. Maybe your kid is simply growing older and losing interest in old toys. Whatever your intentions, it's easy to get overwhelmed when cleaning the kids room. Tackle the mess in no time with these tips on how to clean out kids' rooms.
Time to Sort Toys
Kids have a habit of collecting (and growing attached to) junk. Sort through toy bins and toss the following:
Broken toys
Dried out markers
Worn or broken crayons and colored pencils
Toys they haven't played with in months
Dingy or holey stuffed animals (favorites exempted)
Board games with missing pieces
Clean Closet Clutter
Kids grow fast. It's nearly impossible to keep up with their sprouting limbs. It's not your fault for getting behind, but it is time to tackle that closet. Grab a donation bag and a trash bag for:
Holey socks
Socks with a missing mate
Hats and gloves your kids never wear
Shoes that don't fit
Old sports uniforms
Clothing your kids have outgrown
Ditch Outdated Decor
Yes, those farm animal prints were precious when your kids were two, but they're quickly losing their appeal. Put them in storage or pass them along to a friend with an infant. Go through the room, removing any wall hangings, blankets and pillows, or furniture that's too babyish for your children. It will be easier to redecorate if you're working with a fresh palette.
Start a Storage System
If your organizational tools aren't working, it's time to start over. Stock up on bins for organization, hanging closet organizers, and other handy tools to help keep your kids' room in order.
Give your kids a fresh start this year. Visit Ace of Gray for paint, home decor, organizers, kids' toys and games, and kids' clothing.