Are you the type of person who needs no excuse to throw "the neighborhood event of the season?" Do you plan a party for every calendar holiday? Do you find your love of entertaining slowly out-weighing your party budget? You can throw a fantastic Labor Day soiree on a budget. All it takes is a little planning, a few supplies, and easygoing party guests!
Keep It Low-Key
Keep the atmosphere fresh and light with paper plates, plastic cutlery, and cute, festive Tervises for summer drinks. Reuse school color koozies from last year's tailgate season, or ask Ace of Gray's gift shop to personalize your drink accessories with a monogram. One or two nice details (like a vibrant Happy Everything serving dish) will keep your party feeling laid-back instead of drab.
Have a Potluck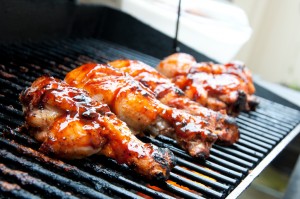 When you're throwing a party, food costs pile up fast. Luckily there's nothing more charmingly Southern than a good old fashioned potluck! Create a Labor Day feast by asking each guest to bring their favorite dish. Keep a tally of what everyone's cooking so you don't wind up without a main dish. Set up a long, covered table where guests can dish up, and you're set!
DIY Everything
If you're throwing a Labor Day party on a budget, DIY projects are your new best friend. Add a farm-fresh feel to the table by cooking with ingredients straight from the veggie garden. Repurpose old jam jars as candle holders, give your party a burst of red, white, and blue with 4th of July decorations, and ask the folks at Ace of Gray for ideas on making inexpensive, chic DIY decor.
Pick a Theme
When you throw a themed Labor Day party, you can reap the rewards of your guests' enthusiasm. Simply slap "White Party," "Back to School," "Beach Party," or "Red, White, and Blue" on the Facebook e-vites and let your friends do the rest!
No matter what kind of party you're throwing, shop Ace of Gray for cute, inexpensive party supplies for your Labor Day bash.