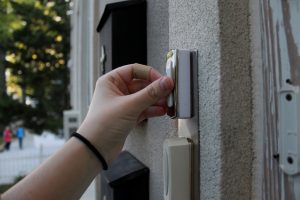 Are you looking to add flare to your home this Fall? Revamp the front of your home with a new doorbell by following these easy steps from Ace of Gray.
Disconnect the power to the doorbell by turning off the power at the circuit breaker or fuse. There are a few ways to make sure the power is turned off like ringing the doorbell, or if the doorbell usually lights up, check to see if the light is on. If all else fails, use on a voltage detector to test the wires.
Use a screwdriver to remove the existing doorbell. After the doorbell is removed, two wires will be attached to two screw terminals on the doorbell.
Remove the wires connected to the old doorbell. Loosen the screws and guide the wires away from the existing bell. The wires that come from your transformer to the doorbell itself may be different colors than mine.
Fill in the old screw holes. Depending on the shape of your doorbell, the screws for new doorbell may not land in the same location as your old screws.
Connect your new doorbell. Once the wire is wrapped around each screw, tighten the screws on the side of the doorbell using the screwdriver, ensuring that each wire is firmly connected beneath the screws. Now, it's time to test your connection.
Attach new doorbell. After the wires are attached gently fold any excess wire and compress the mechanism back into position. Now, use a drill to create new pilot holes for the screws. Use the screwdriver to connect the new doorbell to the trim.
For more information about Ace of Gray, visit our website or give us a call at 478-986-9200.
Are you a Ace of Gray customer? Rate and share your experience with us today in the review section of our Facebook page today. We want to hear from you!