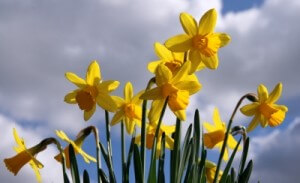 The official start of spring is still weeks away, but no one shared the date with our Georgia landscapes. Flowers, trees, and lawns across Gray are starting to show signs of greening up. As you pack up the pruning shears and preemergent herbicides for another year, remember these 3 home improvement projects to prepare your house for spring.
Spring-cleaning. Out with the old, in with the new. No matter how much we might dread it, when spring rolls around it's time to clean. Enlist the help of family and friends to complete your home improvement tasks more quickly. Throw away the storage items that are just taking up space, wipe away the dust that collected over the winter, and scrub dank home spaces prone to mold growth. Spring-cleaning often reveals drywall that needs patching and pipes that need replacing, so set aside a portion of your March budget for home improvement and maintenance.
Landscaping. There's no better time to revamp your garden than just before spring arrives. Transplant last year's blooms before they emerge from dormancy to reduce the shock of repotting. Plant spring bulbs for a burst of late season color. Fertilize your lawn or lay spring sod to ensure thick, green grass for the kids to play on and the neighbors to admire. If you have a tried-and-true green thumb, visit Ace of Gray and choose from a selection of plant seeds in our Garden Center.
Allergy-proofing your home. Pollen season will be here before you know it. If you or your loved ones suffer from spring allergies, it's time to get serious about your home improvement. Replace all HVAC air filters every few months to ensure clean home air. Reseal windows and doors with sturdy weather stripping and caulking. Consider ripping up old carpets—which collect dust, dander, and pollen—and renovating your home flooring.
Want to make your house fresh again? Stop by Ace of Gray and receive free advice from our home renovation experts.