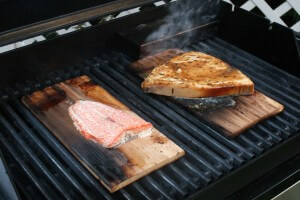 The grill is hot, the meat silently sizzling, and all is right with the world. But how did you get here? If you're new to smokers like the Big Green Egg, it's hard to know where to start. Choosing the right grilling equipment is essential to a tender, flavorful cut of meat. And when it comes to rich flavor, it all starts with the wood.
Guide to Grilling with Wood Chips
Choosing the right wood for your grill imbues the meat with mouth-watering flavor before you even think about adding a rub. What wood is right for your meat? Check out this handy wood chips grilling guide:
Alder: A wood that gives a light, faintly sweet flavor. Use it to smoke fish, pork, and poultry.
Applewood: There's a reason this wood is the go-to for smoking bacon. Applewood chips give meat a sweet, somewhat ashy flavor and a rich brown color to poultry and pork.
Cherry: Known for its fruity taste, cherry does well with pork, poultry, and beef. Avoid wood from chokecherry trees, which may produce a bitter flavor.
Hickory: A robust flavor with a noticeably sweet undertone, hickory is popular for barbecuing pork, ham, and beef.
Maple: A light, smoky flavor, maple adds a hint of sweetness to pork, poultry, cheese, and small game birds.
Mesquite: One of the hottest burning woods, it gives a distinct, earthy flavor to fish, chicken, beef, and game.
Oak: Another barbecue classic, oak lends heavy smoke flavors to read meat, heavy game, pork, and fish.
Pecan: A lighter alternative to smoking with hickory chips.
Walnut: Good with red meat and heavy game, walnut imparts a bold smoky flavor. It can become bitter if used alone, so grillmasters usually mix it with lighter woods like pear or apple.
Ready to heat up the grill? Check out the Heart of Georgia Eggfest for great deals on demo grills, Big Green Eggcessories, wood chips, and rubs.