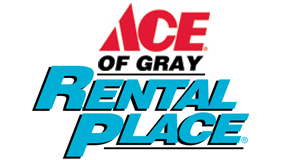 Do-It-Yourself home improvement projects sometimes require more extensive supplies than you're willing to buy. While it's no problem to purchase sandpaper and Valspar paint to refinish an old coffee table, it doesn't make sense to buy a pressure washer to clean the deck once a year. Ace of Gray Rental Place is here to cover your home improvement needs.
Indoor Home Renovations
If you're refinishing your home alone, you can rent equipment and save on installation. Check out our selection of wallpaper steamers, hot air guns, and pop ceiling poppers for basic home updates. To help Gray homeowners lay new flooring, Ace Hardware has a selection of linoleum rollers, tile cutters, floor cutters available for rent. Rent reasonably priced home power equipment for 4 or 24 hours at a time.
Gardening Equipment
When it comes to creating a beautiful landscape, Ace Hardware is your ace in the hole. Rent basic lawn care equipment like hedge trimmers and lawn mowers, take care of unexpected garden setbacks by renting our humane animal traps, or take your yard to another level with serious landscaping equipment like a tiller or backhoe. Level your lawn and remove yard debris by renting a Dingo and the correct attachments. After you level the ground, till the dirt, and aerate your yard, lay fresh spring sod to instantly improve your curb appeal.
Everything in Between
If you need it for your home improvement job, chances are Ace has it. Visit our webpage for more information on renting power tools, plumbing supplies, automotive equipment, and moving supplies. We also rent SpaceWalk bounce houses for community events and kids parties.
Sometimes it makes more sense to rent than to buy. Call the Ace of Gray Rental Place for more information about borrowing the supplies for your next DIY project.