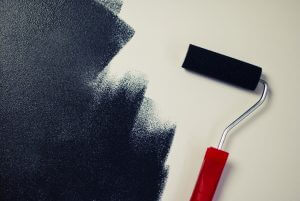 Painting a tall stairwell can seem like a large task especially for new homeowners, but it doesn't have to be. Take a look these quick tips that'll help prepare you to paint your stairwell like a professional.
Preparation
Thoroughly dust the walls and ceiling of the stairwell before painting so spider webs do not get caught in your paint. This can be done by using a cleaning pole with a duster made of lambswool or synthetic material attached at the end. Start by dusting the ceiling and corners, then work your way down the walls (this is to minimize your chances of getting dust in your eye).
Scaffolding
A scaffolding is a temporary structure usually made of wooden planks and metal poles. A ladder can also be used as a scaffolding, however, make sure that your ladder is level and secure before getting on it.
Safety first
At Ace of Gray, your safety is important to us. Be sure not to position a ladder on a dropcloth laid over tile or wood, because it may slip. Instead, place the ladder on a non-slip rubber pad. Also be sure to inspect your scaffolding before using it to make sure it is sturdy.
Painting Supplies
Use an extension pole fitted with a paint roller to paint the ceiling. Move the roller in a slow, fluid motion helps minimize paint splatters. A lambswool roller cover with a density of at least 1/2 inch holds more paint than a regular paint roller.

For more information about Ace of Gray, visit our website or give us a call at 478-986-9200.
Are you an Ace of Gray customer? Rate and share your experience with our team in the review section of our Facebook page. We love hearing from you.