As winter ends and nature awakens, you might consider improving the look of your yard. One of the main challenges of spring landscaping is having the right vision of what your garden design could look like after the changes are made. Ace of Gray can provide expert advice about outlay, color, type of flowers and shrubs, maintenance, feeding, tools, or anything else that can help create a quality landscape.
Garden Design Tips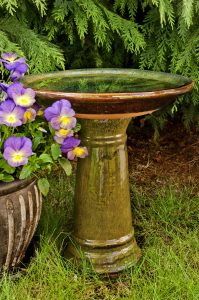 Do you have a feature in your yard that stands out? A fountain, outdoor fireplace, dining area, or anything else that draws the first glance? Shrubs can be strategically planted around your outdoor entertaining area in patterns that are pleasing to the eye, creating a personal space for your family and guests.
If you wanted to add some color to your landscape, annual flowers are available in every hue imaginable. While perennials are better value for money, adding various annuals each year allows you to find your preferred color through experiment and testing. The most popular annuals are petunias, zinnias, impatiens, and marigold. Some more exotic choices include cleome, lisianthus, Joseph's coat, or gazania.
Plant arbors, birdbaths or other ornamentals now. When the flowers grow around them, your hardscaping elements will look twice as nice.
5 Spring Landscaping Tips
Always prune hedges and clean up winter debris like dry branches, leaves, and dead plants.
Apply pre-emergents to prevent weeds from developing.
Check the condition of irrigation equipment and tune your lawnmower regularly.
Keep the lawn watered to ensure the healthy growth of new grass.
Mow any cool season grasses like fescue.
The new plants are at gentle stage of beginning of their growth. Applying these tips now can contribute to your garden displaying its full potential throughout the year.