Spring-cleaning has a way of putting the old, worn, out-of-style aspects of your home into perspective. Cabinets that blended into the winter woodwork look dull and uninspiring in the fresh light of spring. Home renovation projects you've been putting off jump to the top of your home improvement list. Out of all the home areas in need of a quick springtime makeover, the bathroom is by far the most difficult. Generally too small for major changes, it's also nearly impossible to decorate beyond hanging pictures and changing the shower curtain. If your bathroom needs a redo, Ace of Gray has you covered with these easy DIY bathroom renovations.
Paint and Stain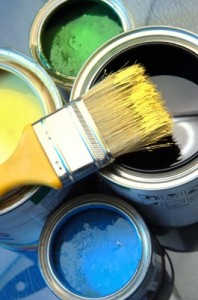 The simplest way to freshen up a powder room is to add a splash of color. Bright colored walls add a jolt of energy to a boring bathroom. Painting or staining old cabinets is another easy bathroom update. Contrast a dark wood stain with a whimsical wall color or keep to classic hues with ivory panels and metallic details. Working with a small space? Keep the walls and cabinets neutral in color to open up your bathroom.
Take Advantage of Furniture Storage
If you're blessed with a large bathroom, furniture is a simple way to update your space and increase your bathroom storage. Find a narrow, open table and make your own drawers by sliding linen-lined wicker baskets underneath it. Stackable storage is another excellent, easy bathroom update. Repurpose a wine rack for storing towels, add floating shelves from floor to ceiling, or install a new cabinet above the toilet for a clean, useful bathroom update.
Update Plain Mirrors
Builder mirrors are a blight on a beautiful bathroom. Flat, square, and usually hung with unattractive hardware, they can ruin a bathroom renovation. Unfortunately, they're difficult—and expensive—to replace. If you're stuck in a standard apartment or simply don't have the funds to purchase a new bathroom mirror, consider framing your mirror. All you need is molding trim, a miter box, liquid nails, paint, caulk, and an hour of free time. You'll have an elegant bathroom update in no time.
In the mood for home improvement? Stop by Ace of Gray for DIY talk, tools, and tips for your latest renovation projects.