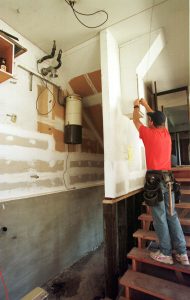 Winter, Spring, Summer or Fall? At Ace of Gray, we know that for many homeowners this question comes up when debating on remodeling. When is the right time to do so? Really, there isn't a right or wrong time to remodel. It is the right time if you're ready and able to remodel. However, some times of the year are better than others depending on the phases of renovation job and for cost-savings. Are you unsure of what renovations to take advantage of for the month of September? Well, wonder no more.
Remodeling July through September
We suggest remodeling the kitchen and bathrooms during the summer months. This allows you to get major things down around the house while staying cool, and out of the heat. The last thing you want to do in the sweltering heat is an attic bedroom! To most people's surprise, however, roofing projects are often done in the summer, because the roofing material needs certain higher temperatures to seal.
You already have enough on your plate with remodeling, don't add to the stress by debating on what to remodel. Now that you know what projects to take advantage of before Fall rolls in, come visit us at Ace of Gray for all of home improvement needs. For more information about our products and services at Ace of Gray, visit our website or give us a call at 478-986-9200.
Are you an Ace of Gray customer? Rate and share your experiences with us in the review section of our Facebook page today. We can't wait to hear from you!