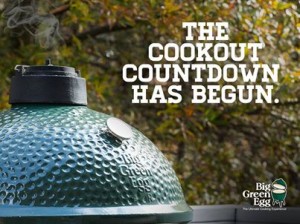 This time of year, it's not hard to find an excuse for a summer cookout. Graduations, end of school bashes, and Father's Day all offer the perfect ingredients for a spectacular summer shindig. If you're ready to enjoy a day of delicious food with friends and family, read Ace of Gray's guide to the perfect summer cookout.
Plan a Summer Cookout
Pick a day and mail DIY summer cookout invites.
Make a rain plan. No one wants to enjoy delicious barbeque ribs in an unexpected shower.
Determine if any of your guests have dietary restrictions and find food alternatives.
Stock the cooler at least two hours before the party.
Arrange and decorate food and drink stations, game stations for corn hole and croquet, and a shady spot for guests who want to sit.
Big Green Egg
At a Southern summer barbecue, nothing beats meat smoked in a Big Green Egg. The Big Green Egg gives you the versatility to smoke lamb for Father's Day, cook cobblers for garden parties, and grill burgers for a true summer shindig. Cook succulent steaks and juicy barbecue ribs alongside savory and tender spiced veggies. In the Big Green egg smoker, even meat substitutes are full of rich flavor. Is your outdoor cooking space incomplete? Find the perfect grill and backyard accessories in the outdoor living section of our home improvement store.
Ace of Gray garden center and gift shop has all the best accessories for your summer barbeque. Stop by our outdoor living section for party supplies, dinnerware, and unique party favors for your friends.