The Heart of Georgia EggFest is heating up, with sensational promotions on Big Green Eggs and your favorite Eggcessories. If you've been saving up for a Big Green Egg, here's your chance to score a great deal! Buy a demo Egg and take grilling to a whole new level.
Eggfest Demo Eggs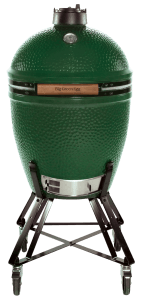 So how does this demo egg thing work? Get great savings when you purchase a Large or X-Large demo egg before the Heart of Georgia Eggfest. We'll hold onto your Big Green Egg during the event, where you'll be able to watch one of our master grillers cook tasty samples on your new slow cooker. Pick up your gently used Big Green Egg after the event on August 29th. It's as simple as that! All demo Eggs come with a nest, a plate setter, and a full warranty.
Get Your Demo Egg
Demo Eggs come fully assembled. Each comes complete with a dual function metal top, ceramic damper top, stainless draft door, temperature gauge, and spring assisted hinge. To purchase a Big Green Egg, please contact us before the event.
Buyers must attend the Heart of Georgia Eggfest.
Pick up your demo Egg between 4pm and 6pm on August 29th.
Come prepared to load your Big Green Egg. You will need a vehicle with 33" height (we recommend a small SUV or larger vehicle), blankets, and straps. Our Eggfest staff with help you load the Egg into your vehicle.
Essential Eggcessories are available for purchase at the Heart of Georgia Eggfest.
Feel free to attend our Big Green Egg basics class at 11am.
We have a limited number of demo Eggs available. Order yours before they're gone!
Want to learn more about purchasing a demo Egg? Call Ace of Gray.