Valentine's Day is just a week away. Whether you're a planner, a spontaneous romantic, or a last-minute shopper, Ace of Gray has what you need to create the perfect evening for the person you love.
Valentine's Day Basics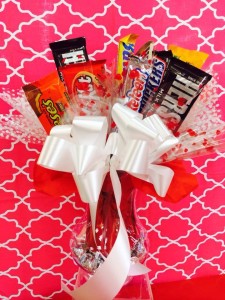 Need a quick gift or a lead-in to a romantic dinner? Does your wife, girlfriend, or crush love chocolate? Ace of Gray has a range of tasty treats to delight any Valentine. From the classic box of heart-shaped chocolates to a carefully arranged bouquet of candy bars, we have something to satisfy your loved one's sweet tooth. Want something that will last past February 14th? Floral arrangements will bring a smile to her face long after the last piece of chocolate has melted in her mouth. Choose from our selection of supple red roses and surprise your significant other at work or school. We deliver FREE to schools on February 13th and to all businesses with orders of $25 or more.
A Personal Valentine
If you're looking for a dash of romance and mystery, there's no better way to celebrate Valentine's Day than with a personalized present. Customize your gift with an embroidered stuffed bear or personalized beaded bracelets. Looking for something out of the ordinary? Once you've found the perfect picture on Pinterest, stop by Ace of Gray for DIY supplies for your Valentine's Day project. From baskets to picture frames to paint and brushes, we stock everything you need to make a homemade Valentine's Day gift your significant other will cherish!
When in doubt, it's great to help out. Wives love husbands who are handy, so grab a new wrench and fix that leaky sink you've been ignoring since the holidays. There's nothing more romantic than that!