With the first risk of frost creeping into Gray this weekend, it's a good time to step back and assess fall home maintenance. Fall lawn care, planting perennials, and decorating for Thanksgiving are only a few of the items that should fill your home maintenance checklists this year. Make sure you're ready for cooler weather by crossing outdoor home maintenance off your fall checklist while the weather's still nice.
Outdoor Home Maintenance
The outside of your home will withstand a lot over the coming months: frost, wind, freezing rain, and maybe even another Georgia ice storm. Prepare your home exterior for winter by checking off these maintenance tasks:
Clean and maintain your gutters.
Remove dead or injured branches from trees. Check your property for at-risk limbs that may be damaged during winter storms.
Check the roof for damage, and replace loose or disrepaired shingles.
Look for weather damage along home siding, wood trim, window sills, and other vulnerable places outside your home.
Check walkways and handrails for damage and repair any issues that could cause injury.
Fall Lawn and Garden Care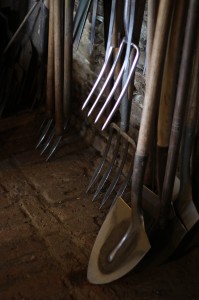 Fall offers a bounty of gardening opportunities to those of us blessed to live in the South. We can explore vegetable gardens and gourd decor, fresh pansies and mums, and planting new trees, shrubs, and sod well into November. But some fall landscape maintenance is easily overlooked. A few key items to remember this November:
Loosen the soil and remove thatch buildup in the fall.
Plant perennials like pansies and violas several weeks before the projected first frost.
Don't prune trees and shrubs unless you're 100% certain you should. Most woody plants require pruning in January or February, while summer-blooming bushes and trees (like crepe myrtles) should be pruned immediately after losing their flowers.
Raise the height on your lawn mower or risk damaging dormant grass.
While you're at it, winterize your lawn mower and yard equipment.
Ready to get cracking on your fall home maintenance checklist? Stop by Ace of Gray's home improvement store and garden center to get the supplies, tools, and expertise necessary to keep your property in tip top shape.