The Georgia skies may be clinging to warm weather, but here on the ground we're preparing for the cold fronts on the horizon. Winter is almost here, bringing frost, ice, and maybe even snow to our carefully tended Gray landscapes. While you're dreaming of spring bulbs blooming and digging into your late autumn lawn maintenance, consider your Christmas color. Winter landscape design will keep your landscape bright and inviting this holiday season.
Trees and Shrubs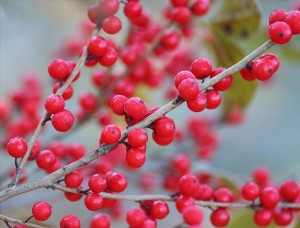 As bright foliage and flowers give way to the grey-white of winter, look for innovative ways to incorporate beauty into your yard. Plant holly bushes, trees with winter fruit, and evergreens to bring color to your winter landscape. The green shrubs and vivid red berries contrast with the colorless winter sky, transforming your yard into an enchanting holiday oasis.
Ornamental Elements
Garden ornaments are easy to add, move, and remove from your landscape, making them perfect for seasonal landscape design. Create a festive yard with outdoor Christmas décor or keep it classic with wheelbarrows and window boxes. When your yard needs a beauty boost, adapt or replace your garden ornaments for a new burst of visual energy.
Lawn Care
No matter what time of year, landscape maintenance tidies up your yard and ensures a flourishing garden in the months to come. Keep your yard clear of sticks, fallen branches, and leaves. Hard edge your flowerbeds to keep your aesthetics crisp and prepare your garden for late winter mulching. Service and store garden machinery after this season's final use.
For garden décor, maintenance tools, or cold weather plants, visit your home and landscape professionals at Ace of Gray.