Eggheads unite! If you love juicy burgers, flavorful pizzas, and smokey summer dishes, it's time to prep those palates. The 2nd annual Heart of Georgia Eggfest is coming to Ace of Gray on June 11th.
Heart of Georgia Eggfest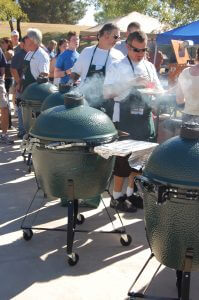 The Eggfest isn't just a celebration of cookware. It's an immersive grilling experience for beginner, intermediate, and pros on the Big Green Egg (and a great opportunity for other folks to taste sweet and savory summer snacks). Egg enthusiasts from across Georgia will travel to Gray for this all-day eggperience. Not only will our festival feature flavorful food prepared by local experts, it's a great opportunity to do a little shopping. Whether you're looking for a Father's Day gift or finishing your summer deck with a smoker to impress, you won't want to miss the discounts available on Big Green Eggs and Eggcessories.
How to Get Involved
There are plenty of opportunities to get involved in this year's Eggfest.
Register as a cook and show off your skills. Prepare your specialty, share bite-sized samples, and get ready to share your wisdom with the world.
Become a taster. Meander through the festival tasting meats, sides, casseroles, pizzas, and desserts, all cooked fresh on our demo Eggs. Help us determine which cook will get the big prizes (and enter to win a Tan Yeti Hopper or 1 of 5 Looftlighters for yourself).
Get a deal on a demo Egg. We're not just offering discounts on major Eggcessories during our annual Big Green Egg festival. You can actually purchase a demo Egg, which will be used for the first time by our expert chefs for the festival. Get a large, barely used Big Green Egg with nest and plate setter for just $775. Demo Eggs must be picked up between 4pm and 6pm.
Buy the t-shirt. After all, it didn't happen if you don't show it off later!
Tickets to the Heart of Georgia Eggfest are just $10. All proceeds from ticket and t-shirt sales will go to the Children's Miracle Network in support of our local Children's Hospital. To learn more, call Ace Hardware of Gray.