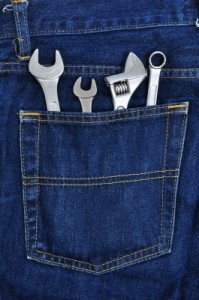 It's easy to get swept up in the hustle and bustle of the holidays. Thanksgiving is just around the corner, and Christmas will arrive before you know it. Decorating the house for the holidays is one of life's great pleasures. But don't let the joy of festive centerpieces and painted signs distract you. Don't let your home winterization checklist get lost amidst the holiday decor.
Easy Ways to Winterize the Home
Caulk the cracks. How can you test if your window seals will hold? Have a friend go outside with a blow dryer (don't forget the extension cord!). Stand inside the window with a candle. If the blow dryer makes the candle flicker, it's time to visit Ace of Gray for fresh caulk.
Switch your ceiling fans. Many homeowners don't know to switch the direction of their ceiling fan during the colder months. Clockwise-rotating fans stir the air and make it warmer, pulling heat from the room and helping it rise. Bonus? It can cut your heat bill by up to 10%.
Install storm doors. Hot air just longs to escape every time you open the door. A storm door seals out drafts and reduces air flow, keeping your house warmer (and increasing energy efficiency by up to 45%).
Plan an insulation project. Is heat still leaking out of the walls and roof? Stock up on insulation and spend a Saturday bulking up the space between your walls, attic floor, and basement ceiling.
Maintain the A/C. Turning off the A/C water valve and draining the pipes will prevent winter leaks and clogged drains. It also keeps your A/C in better condition, reducing the chances you'll need to replace it in the spring.
What projects are on your winter home improvement list? Visit Ace of Gray for tools, materials, and expert winterization tips from our home improvement experts.