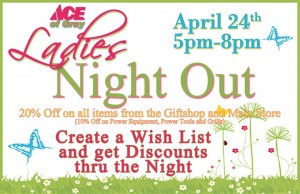 After weeks of spring-cleaning, home improvement projects, and Easter holiday prep, the women of Gray deserve a night to relax. We're saying thank you to the hardest workers in our community with our semi-annual Ladies Night Out event. Take a night off from the hustle and bustle of spring homeowners' projects to enjoy fine food, unbeatable bargains, and free giveaways at Ace of Gray. Ladies Night Out is next Thursday, April 24th from 5pm-8pm.
Spring Is in the Air
If you've never enjoyed an Ace of Gray Ladies Night Out before, you're in for an eventful evening. Enjoy the hospitality of our sales team as you mingle with friends and explore the home goods discounts at Ace of Gray. Sample our delicious Winds & Willows dips as you sip a spring cocktail, and taste tender samples of our favorite Big Green Egg recipes as you shop.
Free Merchandise and Discounts
Ace of Gray makes it easy for you to find the spring necessities. Enjoy 20% off our gift shop and main store merchandise when you attend the Spring Ladies Night Out event. Does your husband have an April or May birthday? All our power tools, power equipment, and grills are 10% for the night! Buy him the Big Green Egg he's always wanted and enjoy the juicy, smoky flavor of home-smoked meat for summer cookouts and fall tailgates. As you shop, our sales representatives will be handing out free merchandise throughout the store. Want a free tote bag? Be one of the first 150 people to check out and receive a cute beach tote for free!
Gray Gift Shop
The Easter basket goodies may be gone, but our Gift Shop is full of cute dishes, stylish clothes, and elegant storage solutions for the loved ones on your gift list. Shop for spring birthday presents, get ahead of your Mother's Day shopping, or find that perfect "just because" gift to encourage your kids to finish the school year strong. When you buy a Happy Everything base for 20%, you can choose from a basket of Happy Everything attachments for free.
Follow our Spring Ladies Night Out event on Facebook for more details.