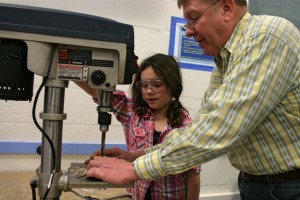 Dads spend their kids' childhoods teaching them valuable skills that will carry them through the rest of their lives. "Righty tighty, lefty loosey" leads the way to "Here's how to shut the water off, stat!" Fathers teach their families how to fix the sink, refinish the deck, prep the house for winter, and everything in between. Show dad you care this Father's Day by using the skills he taught you to knock out his home improvement to-do list.
3 Hands On Gifts for Father's Day
Mow the lawn. Simple, elegant, effective. Take this weekly chore off your dad's to-do list and let him relax on the porch with an ice cold beverage and fresh meat on the grill. Bonus: take a look around the lawn and fix up any straggly bushes, messy sheds, and worn out hardscaping. Double bonus: help your dad maintain his lawn mower by bringing it by Ace of Gray's equipment repair shop for a yearly tune-up.
Fix busted pipes. Whether it's a clog in the shower drain, a leaky pipe in the kitchen, or a sink with poor water pressure, fixing broken pipes is a crucial home maintenance task that's easy to put off. Put those long Saturdays from your childhood to good use and show your father you were paying attention to his lessons in home repair.
Gas up the grill, but first, clean it out. Scrape off char buildup from spring cookouts, dust away any cobwebs that have formed between uses, and give the grill a good scrub with a gentle cleaning solution. Check wires, hoses, and propane tanks to make sure nothing needs replacing. Then grab a few of dad's favorite steaks, break out his favorite steak rub, and get to celebrating!
Ace of Gray has the tools you need to succeed. Whether you want to buy your dad a new pair of hiking boots for Father's Day or you're looking for that crucial part to fix the leaf blower, you're sure to find it in our home improvement center.