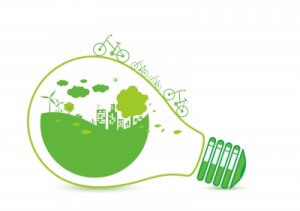 The "go green" movement is alive and well. It's hard to catch up on the news or read your favorite home improvement magazine without catching some new tip about living smarter in your environment. But with so much information available it's difficult to determine which steps save energy, and which ones just sound good. Instead of trading in your car to bike to work or swearing off grocery store vegetables, try these simple energy saving tips for the home.
Make water work for you. Simple home fixes like leaky faucets or overworked water heaters often end up on homeowners "to do (later)" list. It's time to buckle down and start saving. Fixing a dripping pipe can save a few hundred bucks a year on water, while replacing the valve on a constantly running toilet significantly lowers homeowners' monthly water bills. Tired of wasting money to heat water you don't use? Tankless water heaters are easy to install, and save hundreds of dollars by heating water only when it's needed.
Smart home lighting. A lot of Americans are holding onto incandescent lighting, but there's no reason not to go green with your lighting. When homeowners replace standard lights with LEDs or compact fluorescent light bulbs, they see significantly lower electricity bills. Bonus: LEDs and CFLs last up to 10 times longer than standard light bulbs, saving homeowners time and money.
Focus on the landscape. We all know planting trees is a great way to go green, but did you know it can reduce your summer energy costs by up to 35%? Plants create shade, provide a barrier from the wind, and regulate the temperature of your yard, keeping your home cooler in the summer and warmer in the winter.
For home improvement tips and energy saving tools, stop by Ace of Gray.