Do you love the laid-back, fun-focused atmosphere of a backyard cookout? Enjoy experimenting with flavored wood chips and steak rubs on a Saturday afternoon? Then you'll love the immersive experience of Ace of Gray's Heart of Georgia Eggfest!
Eggheads Unite!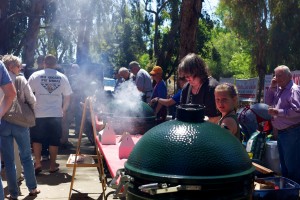 Big Green Egg enthusiasts from across our great state are coming together for a morning of festive fun and friendly competition. The Ultimate Cooking Experience allows our expert Egg cooks to show off their talents and share great food. Sample BBQ and beef, fresh pizza, and baked desserts, all cooked fresh on a Big Green Egg. Mingle with hundreds of other Eggheads, share your favorite grill recipes, and save big with sweet deals on Green Eggs and other grilling products. Want to get the full experience? Show up between 10am and 11am to treat your tastebuds to a full range of savory flavors and sweet treats.
Show Off Your Skills
Do folks talk about your smoked sensations for weeks after every cookout? You may have what it takes to be an Eggfest Chef! We're firing up the Eggs early Saturday morning to give each chef an opportunity to cook fresh samples all day. We request Egg Chefs prepare at least 100 bite sized samples for our tasters. Bring your own Eggcessories and cooking supplies. Ace of Gray will provide a table, two chairs, and a trashcan for each chef station.
EggFest Demo Package
Ready to buy? Purchase an EggFest Demo Egg before the event, watch our expert cooks break it in with a tasty meal, and take it home at the end of the day. The EggFest package includes a full warranty and accessories like the rolling nest and place setter. Available in sizes Large and X-Large. EggChefs get special discounts on grill accessories like the:
V-rack
Vertical Roaster
Drip Pan
Grill Extender
Pizza Stone
Are You the Grill Master?
3 all-star chefs will receive special prizes from Ace of Gray's celebrity judges.
First prize: $500 Ace of Gray gift card
Second prize: Tan Yeti 45 (a $349 dollar value)
Third prize: Costa Sunglasses ($170-$220)
It's time to show off your chops! Don't miss the Heart of Georgia Eggfest on Saturday, August 29th.