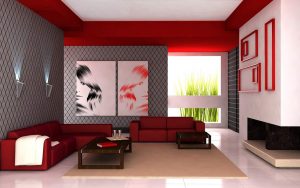 Are you looking to add color to your home? Whether it is your new home or you're breathing life back into an old color scheme, Ace of Gray has a wide selection of paint for homeowners to choose from. Check out a few cool color schemes we've picked out for you.
Pale blue and dark grey
In this color scheme (in the picture), the light blue blends in well making the grey accents pop giving it a modern feel. This color scheme can also be made to look classical. It's all about the furniture and accents.
Gold, Butter, Cream
It's not yellow, more of a gold. If you're wanting to bring a lighter color to your living space, cream walls with gold accents, or a butter-colored wall with cream accent are great color schemes that are sure to bring life to your home.
Burgundy, Crimson, Creme
Colors like burgundy and crimson are versatile and can go well in dark or light color schemes.
These are just three of the endless color combinations you can choose to accentuate your home. After selecting your color scheme, it is time to select the best brand of paint for your home, and at Ace of Gray, our sales associates are trained and ready to answer all of your paint questions.
For more information about our paint selection at Ace of Gray, visit our website or give us a call at 478-986-9200.
Are you an Ace of Gray customer? Rate and share your experience with our team in the review section of our Facebook page. We can't wait to hear from you!