Do you have a cabin in the North Georgia mountains that's just calling your name? Is your lake house collecting dust bunnies? Just because it's winter doesn't mean your home-away-from-home has to fall into disuse. Keep life fresh with Ace of Gray's tips for making the most of your cabin in winter.
Exploring the Great Outdoors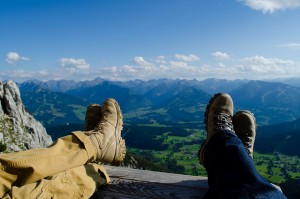 No matter how long you've had your cabin, there are always fresh places just waiting to be explored. Lace up your hiking boots, grab your Columbia coat, and hunt down your Coastas for an afternoon mountain adventure the kids will never forget.
Winter Cabin Maintenance
It happens every year: you pack up the car, round up the kids, and invite a few friends for that first spring trip to the lake, only to find the cabin in a state of disrepair. Winter is the perfect time to take care of those cabin home maintenance tasks that never seem to get finished during the summer. Fix creaky hinges and leaky faucets, weatherstrip doors and windows, and round up all the linens for a wash. If you're on top of home repairs, take the opportunity to reassess your landscape. The bare trees and empty flowerbeds leave the home and landscape exposed to your critical eye. Look for peeling paint, irrigation issues, and holes to repair in the landscape.
Decorating Your Lake House
They say life's always better at the lake — and we've got the Happy Everything plate to prove it! If you're stuck in the winter doldrums, dust off that welcome mat and get to decorating. Feng shui the crowded entryway/great room, replace old furniture on the screened in porch, or add all those little homey touches you've never had time for in the past. Want to make some memories as you makeover your lake house? Invite the girls for a weekend away and gain a handful of decorators, free of charge! They'll be perfectly happy to be paid in good wine and great company.
Whether you're looking for supplies to build a new dock or cute koozies to offer summer sunbathers, Ace of Gray has all your lake house supplies. Swing by and see all the new home goods we have in stock for spring.