How's your backyard looking? If you're looking to add some life to your backyard this summer, check out these three essentials you can get from Ace of Gray that'll easily make your backyard a summer paradise.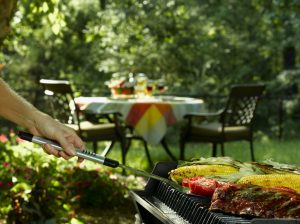 Weber Grill – Everyone knows that a grill can make or break a barbecue because you can't barbecue without a grill, and grillers need grills that last and perform. Grills that make us look like superheros to the people we know and love the most. Click here for more information about our Weber Grill selection.
Outdoor decor – Spice up your backyard with furnishings and decoration. From bird houses and bird baths, to pottery and garden statues, whatever your style is, Ace of Gray has something to match it. Click here to learn more about our outdoor decor selection.
Plants – Add value and beauty to your backyard with shrubs and flowers, and The Garden Center at Ace of Gray is your destination spot for everything regarding your garden. We carry a vast selection of plants, from Fruiting trees & shrubs to Annuals & Perennials. Click here to visit our plants page.
For more information about Ace of Gray, visit our website or give us a call at 478-986-9200.
Do you shop at Ace of Gray? Rate us and share your experience on our Facebook page today!